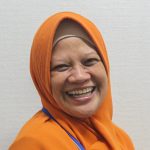 Behavioral Biology
Neuroscience
Animal Physiology
CURRICULUM VITAE
Dr. Lulu Lusianti Fitri
RESEARCH TOPIC
Research on Brain Stimulation and EEG
Animal behavior and physiology
Evaluation the use of BCI for analyzing stroke patients
Cognitive Science and Physiology
ONGOING RESEARCH
Development of ECG applications in animal models (Mice) (2018)
Neurofeedback in stroke patients with BCI (Brain Computer Interface) application through simple motor training as measured by EEG (2018)
Evaluation of Blue Light Exposure to Physiology of Animal and Human Brain Behaviors and Waves (2018)
BCI application in games through human action observation (2017)
Evaluation of Blue Light Exposure to Behavior, Waves, Non-Image and Image Forming in Animal and Human Organism Brain (2017)
Evaluation of Alertness Level and Reaction Time in Driving at Night due to Blue Light Exposure Based on Brain Wave Response (2016)
Evaluation of Motoric Reflex Reaction of Speed Driving Car at Night as a Response to Blue Light Based on Brain Waves (2015)
PUBLICATIONS
2017
2016
2015
Solihin, A., Susanty, E., Taufiq, R., Fitri, L. L., dan Suprijanto. 2015. Experimental Study on The effects of Visual Stimulus on Beta Brain Waves in traffic accident victims with Post Traumatic Stress Disorder. Proceeding : ISBN : 978-602-9019-72-8, dalam kegiatan International Conference Faculty of Psychology Semarang University (USM).


Susanty

, E., Koesno

, S., Yudhistira

, C., Lusianti, L. dan

 

Suprijanto. 2011. 


Eye Movement Desensitization and Reprocessing (EMDR) Therapy in Handling Postraumatic Stress Disorder (PTSD) Respondents. 

Anima, Indonesian Psychological Journal, January 2015, Volume 30, Number 2.

Hazar, S. & Fitri, L. L. Effect of strawberry (Fragaria x ananasa) as antidepresant activity on mice induced by stress. AIP Conf. Proc. 1677, 100009 (2015); http://dx.doi.org/10.1063/1.4930767
Purawijaya, D.A., Fitri, L. L. and Suprijanto . 2015. Evaluation of blue light exposure to beta brainwaves on simulated night driving. AIP Conf. Proc. 1677, 090012 (2015);

Gumelar

, G., Susanty, E., Fitri, 

L. L.,

 Suprijanto

 dan Ernawati, L

. 

2015. 

Asimetri Gelombang Alfa pada Naracoba yang Mengalami Gangguan Stres Pasca Traumatik. Jurnal Psikologi Klinis Indonesia, Vol.1, No.1, pp. 74-84.
2009