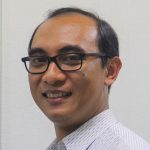 Regenerative Biology
Nutrigenomic
Developmental Biology
CURRICULUM VITAE
Dr. Indra Wibowo
RESEARCH TOPIC
Nutrigenomics dan nutrigenetics
Fish immune system
Selection of natural products and hair cells regeneration in zebra fish
Selection of natural products and degenerative disease
ONGOING RESEARCH
Potential combination of red rice and antidiabetic herbal extracts from Indonesia and the relation to intestinal microbiota profile (2018)
Nutrigenomic study approach to understanding the diet modulation of high beta-carotene of banana of immune and metabolic genes expression (2018)
Anti-inflammatory activity of propolis from Indonesia on zebrafish larvae (Danio rerio) (2018)
Potential combination of brown rice and anti-diabetic herbal extract from Indonesia and the relation to intestinal microbiota profile (2017)
The effect of propolis on gene expression pathways involved in larval cholesterol formation in zebrafish (Danio rerio) (2017)
Study of red rice (Oryza sativa L.) development as "nutrasetika" prevention from obesity and metabolic syndrome (2016)
Development of spatial-time series model with time correlated errors; case study on the effects of pesticides to development of neural zebra fish (2015)
Efficacy biocoating of propolis Trigona sp. for post-harvest protection of agricultural products (2015)
Expression of genes involved in sugar homeostasis (2015)
The expression of the GFP reporter gene in zebrafish (2015)
PUBLICATIONS
2017
Yusmalinar, S., Anggraeni, T., Kustiati, K., Wibowo, I., Putra, R.E., and Ahmad, I. 2017. Reproductive ability enhancement of housefly (Musca domestica linn.)(diptera: Muscidae) through hormesis by application of sublethal doses of imidacloprid and permethrin. Journal of Entomology 14(5), pp. 199-207.
2016
A. Ridwan, Awaludin, Wibowo, I., Nurasmi. 2016. Potential Study of Ethanol Extract of Karamunting (Melastoma malabhatricum) as Growth Precursor for Larvae of Giant Tiger Prawn (Penaues monodon) by Dipping Method. Proc. Basic Sci., 6
2011
Wibowo, I. , Pinto-Teixeira, F., Satou, C., Higashijima, S., López-Schier, H. 2011. Compartmentalized Notch signalling sustains axial references for epithelial planar polarity. Development. Mar;138(6):1143-52.