August 10, 2016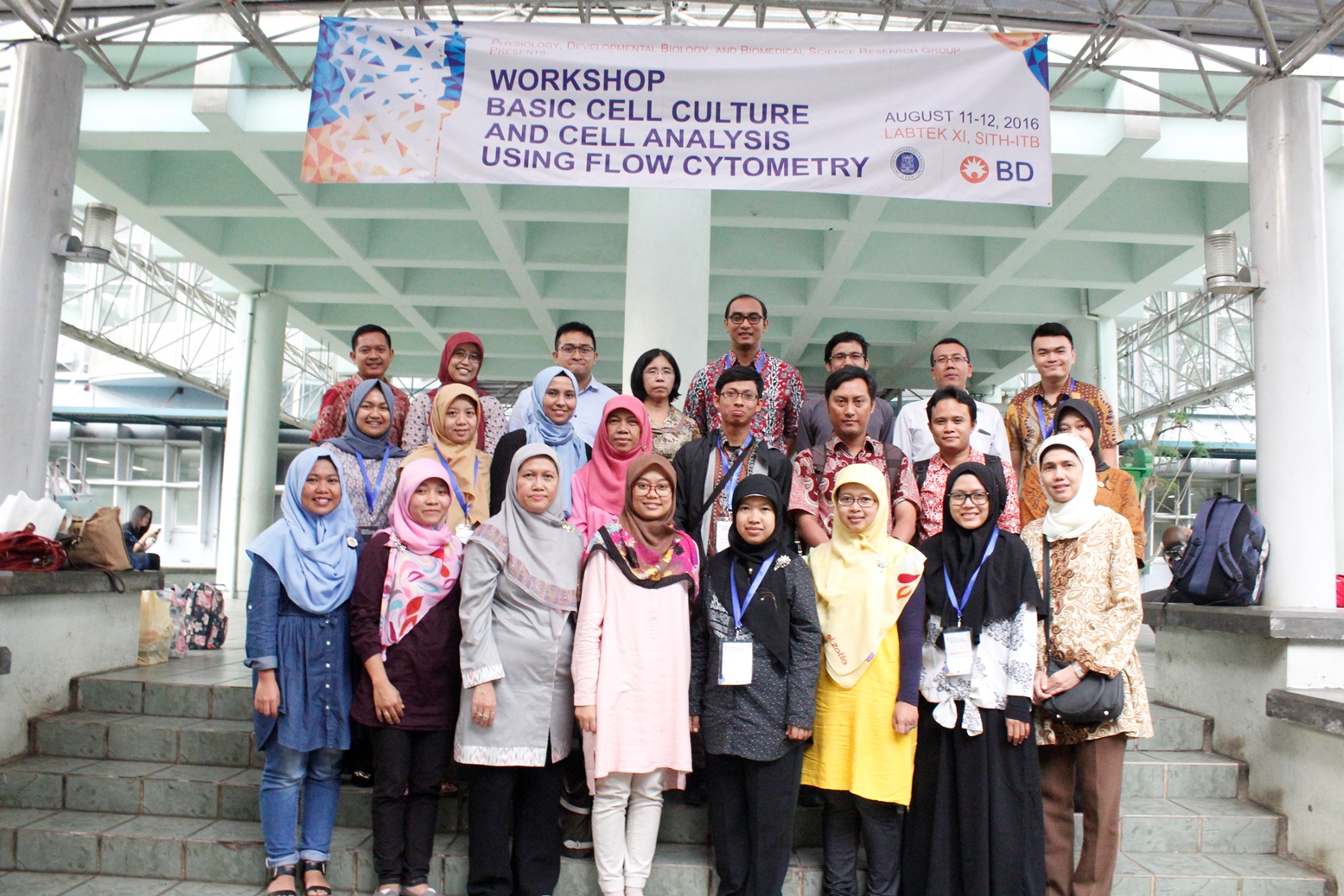 Physiology, Animal Development and Biomedical Science Group of Expertise collaborate with BD Biosciences, suppliers of flow cytometry , to organized a workshop entitled "Workshop on Basic Cell Culture and Cell Analysis Using Flow Cytometry ". This event held to answer the needs of the industry and research institutes, especially from a health and medicals fields, related to cell culture techniques and its applications, as well as the implementation of knowledge and skills possessed by members of this group of expertise.
Located in Labtek XI, SITH ITB building, this event was held for 2 days and participated by 16 participants with various background from health industry and research institution such as, BATAN, BIOFARMA, Dharmais Hospital, Medical Faculty of Indonesia University, Dental Medical Faculty of Padjajaran University and also from Malang University.  This workshop event generally consisted of lectures about basic cell culture techniques given by lecturers of our group of expertise members, and hands on workshop of basic cell culture technique and cell analysis using Flow Cytometry in laboratorium.
This event opened by Dr. I Nyoman P. Ariantha as a dean of SITH ITB, and followed by greeting from Dr. Anggraini Barlian as a head of committee. After opening, the main event was started with lecture about Safety Laboratory from Dr. Indra Wibowo and Basic Cell Culture and Application lecture given by Dr. Anggraini Barlian. The event continued with hands on workshop in cell culture laboratory to to practice the basic cell culture techniques such as, culture medium preparation, cell thawing and seeding techniques, subculture techniques and cryopreservation technique.
In the second day, workshop content consisted with application of basic cell culture techniques and cell analysis techniques using flow cytometry. Workshop in second day opened by lecture about Application of Cell Culture Techniques in Cancer Cells Study given by Dr. rer. Nat. Marselina I. Tan, after that, workshop continued by practice in laboratory. After lunch, participants received lecture about Basic Principle and Application of Flow Cytometry from BD Bioscience.
This workshop event was closed by Dr. rer.Nat. Marselina I. Tan as a representation of members of Physiology, Animal Developmental and Biomedical Science Group of Expertise. Based on feedback from participants, they are feel satisfied with the workshop material and they hope there will be the similar workshop in further.